We are reader supported and may earn a commission when you buy through links on our site.
Learn more
The History of NSA and FBI Snooping and Cyber-surveillance
You've probably heard about mass governmental cyber surveillance programs (unless you've been living under a rock without Wi-Fi), but how much do you actually know about them? Today, we'll share all the important details, plus recommend the best VPNs against government snooping you can use to keep the NSA and FBI out of your business.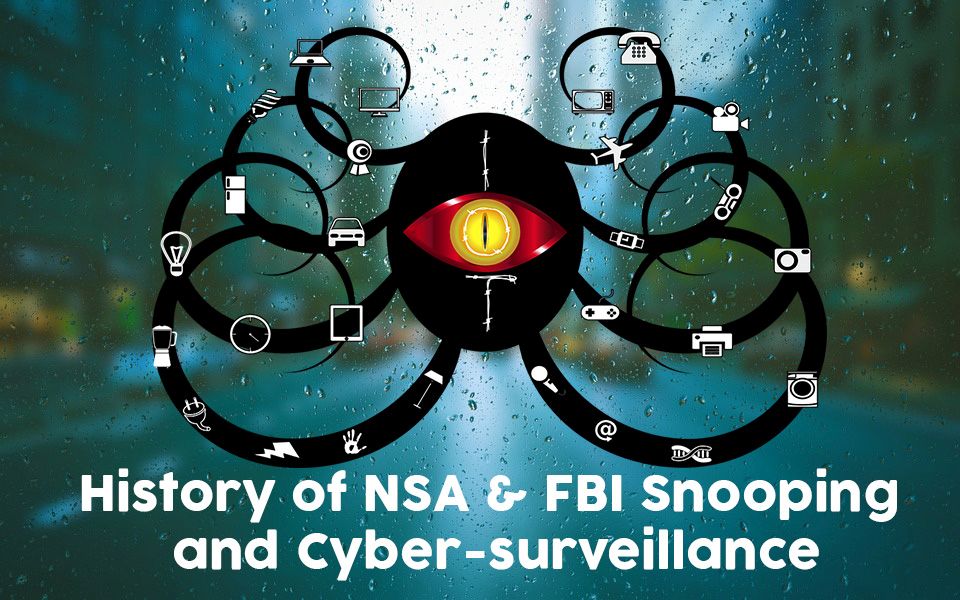 Most major powers in the world today have domestic intelligence services, some of which are more famous than others. In the United States, there's the National Security Agency (NSA) and the Federal Bureau of Investigation (FBI), two agencies that have made headlines in recent years for engaging in online snooping and mass surveillance. Leaked documents recently showed the extent of those data-collecting efforts, which has caused many internet users to rethink just how safe their information is when they go online.
Take back your right to privacy online, confound NSA and FBI snoops with these VPNs:
NordVPN – Best vs. Spying – NordVPN is the most trusted privacy solution on the market, and has years of expertise combatting government surveillance. With the world's strongest encryption, the NSA and FBI don't stand a chance to view your activity online.
Surfshark – The rising star of the VPN industry, offering advanced provisions that rival the NSA's own internal security.
ExpressVPN – A great pick for mission-critical anonymity and more fun things like streaming and gaming.
IPVanish – Practically synonymous with hiding your identity online, used by torrenters for years.
30-days money back guarantee
What Do the NSA and the FBI Do?
The FBI was founded in 1908 with the goal of protecting the rights and liberties of United States citizens while enforcing criminal law throughout the country. Their somewhat vague mission statement gives the FBI a large amount of latitude to carry out their tasks, which include everything from stopping organized crime to preventing terrorism. The original benefit to having an FBI is access to government intelligence and resources along with the ability to cross state lines without jurisdiction issues (something local police forces can't do).
The NSA was founded in 1952 and is responsible for global monitoring, information collecting, and protecting U.S. communications networks. This is carried out through surveillance efforts that include everything from physically bugging electronic systems to wiretapping and monitoring internet activity. The NSA's job description is even less precise than the FBI's, allowing it to bend an enormous number of rules in the name of protecting U.S. citizens and the integrity of the U.S. government.
As cliché as it may sound, most of what the FBI and NSA can do is classified. The agencies operate under extreme secrecy, which has led to countless conspiracy theories over the years. FBI agents are spotted wearing dark glasses loitering in public parks, for example, and the NSA has electronic bugs placed in every commercially produced smoke detector. While there may have been truth to some of these rumors, nothing compares to the paranoia brought about by the internet.
When ordinary people started using computers, going online, and carrying cell phones in their pockets, the NSA and the FBI took notice. Trillions of pieces of personal data were uploaded on a regular basis, all by willing participants using websites and social media. Tools were developed to capture and collect this information, which kicked off the age of data snooping and mass surveillance.
RELATED READING: How to pretend you're in another country, with a VPN
Cyber-surveillance Verified: The Snowden Leaks
In 2013, former NSA and CIA contractor Edward Snowden leaked documents pertaining to mass surveillance efforts carried out by worldwide government agencies. The initial revelations showed extensive, invasive measures taken by the NSA to spy on U.S. citizens, foreign travelers, and visiting government officials. Other intelligence groups were also implicated in these attacks, providing evidence of a network of cooperation between governments.
The Snowden leaks revealed a pattern of increasing surveillance from both the NSA and the FBI. The days of recording phone calls and copying security camera footage were over. Now these agencies can easily gather any personal information about anyone, usually without a warrant and without any kind of oversight.
Below is a short list of some of the information contained in Snowden's early leaks. For a more in-depth look, take a look at the following list of Snowden revelations.
A loophole exists that allows government agencies to search U.S. citizens' e-mail and phone call records without a warrant
Britain's intelligence agency, GCHQ, intercepted phone and internet communications of foreign politicians visiting London
GCHQ taps fiber-optic cables to collect global e-mail message, Facebook posts, internet histories and more. This information is then shared with the NSA
The NSA accessed data through back doors built into U.S.-based internet companies such as Google and Facebook
The NSA pays hundreds of millions of dollars per year to several U.S. companies in exchange for access to their networks
The NSA spies on millions of phone calls, e-mails, and text messages of ordinary German and Brazilian citizens
The U.S. government placed electronic bugs in European Union offices throughout New York, Washington, and Brussels
The U.S. government spies on at least 38 foreign embassies using a variety of surveillance methods
As frightening as the above data sounds, it gets worse. The NSA and the FBI have ready access to e-mails, phone records, text messages, and much more. They aren't bound by international borders, and they even share information with other government intelligence agencies. Documents obtained from an internal audit revealed the NSA broke its own privacy rules thousands of times per year, illustrating just how much power these agencies can wield, and how little privacy we have online.
FBI and NSA Mass Surveillance Programs
Snowden's documents indicated the snooping and cyber-surveillance efforts by the NSA, FBI, and other government agencies are ongoing and invasive. If you have a cell phone, swipe a credit card, or use the internet, chances are your data has already been gathered and stored by at least one of these agencies.
Below are a few of the more noteworthy surveillance programs carried out by the NSA and FBI.
The Five Eyes Intelligence Alliance
The Five Eyes is a comprehensive espionage alliance between Australia, Canada, New Zealand, the United Kingdom, and the United States. Its origins can be traced to the post World War II period when the ECHELON surveillance system was developed. The listed countries had similar common laws blocking domestic surveillance on their respective soils. To gain better data on movements within their borders, they formed agreements that allowed intelligence sharing between agencies, neatly bypassing domestic laws to ensure everyone was under surveillance.
Snowden himself described Five Eyes as an organization that doesn't answer to the known laws of its own countries, which put privacy advocates on edge. Furthermore, the Five Eyes countries have expanded to include limited participation by as many as fourteen nations, adding Denmark, France, the Netherlands, Germany, Belgium, Italy, Spain, Norway, and Sweden to the list.
The Future of NSA and FBI Snooping
It's estimated Snowden copied anywhere between 200,000 and 1.7 million documents. Only a small percentage of those have been released to the public. We may have just a fraction of the full picture, but what we know is terrifying nonetheless. As technology progresses the NSA and FBI are likely to find more efficient ways to monitor and gather information, making it more difficult to protect your privacy as the years go by.
RELATED READING: Is ExpressVPN blockd in China? Read this to see why this VPN is still working in China
Protect Against Mass Surveillance and Online Snooping with a VPN
The level of access the NSA and FBI have to everyone's personal information is staggering. But with every new technology they deploy another one pops up to protect users against snooping and cyber-surveillance. Virtual private networks are currently gaining incredible traction as people deploy them to help protect their identity and activity on the internet. They're fast, easy to use, and surprisingly effective at keeping you safe online.
VPNs work by encrypting data before it leaves your device, making it nearly impossible to determine the contents or origin of each packet. You also gain a measure of anonymity by replacing your local IP address with one from the VPN's servers. You'll be able to stay safe while using public Wi-Fi, protect against hacking attempts, access censored websites, and unblock region restricted content like videos and TV shows. All you have to do is choose a VPN, sign up, and enjoy a private internet experience.
How to Evaluate the Best VPN for Privacy
Diving into the world of VPNs and online privacy can be overwhelming at first. There are encryption protocols to research, logging policies to compare, security audits to sift through, and much more. We've made the process easier by providing a list of recommended VPNs below. Each was chosen based on the following criteria, ensuring you'll always have the best VPN experience possible.
Reputation – Using a VPN means sending all of your data through their servers. If you choose a less-than-reputable company, there's no guarantee your information isn't being shared with the NSA. Our VPN providers are all well-established and trusted by the online privacy community to keep your data safe no matter what
Logging policy – VPNs can log and store your information just like a local internet service provider. Logs make it possible for government agencies to request or demand copies, which puts your privacy at risk. The best way to keep information safe is to make sure it doesn't exist, which is why zero-logging policies are a vital component to your online privacy
Jurisdiction – Where a VPN company is registered can make a huge difference. If the service is located in a Five Eyes country, they're bound by those governments' laws, meaning you can't trust them to put your privacy first. It's best to choose a VPN that isn't based in a Five or Fourteen Eyes location
Security and encryption protocols – VPN providers generally use the OpenVPN protocol for traffic and encryption. There are other options that can exchange speed for added privacy, however, including SSH and SSL tunneling. Both are excellent alternatives when you need added security or anonymity
Payment methods – Paying for a VPN leaves a paper trail, especially if you use a credit card tied to your identity. By using a cryptocurrency such as bitcoin, you can get VPN service that isn't directly associated with your name
NordVPN's standout feature is its amazing network of servers, over 5000+ in 61 different countries. The list is constantly growing, too, providing users more connection options as well as better download speeds. A unique benefit of this incredible network is how NordVPN uses it to deliver customized speed and privacy features. Need faster P2P downloads? There are servers tasked to do just that. There's also double encryption and onion routing servers that offer an amazing amount of security. All you have to do is log in, choose a node, and you're set!
NordVPN extends its privacy features further with an incredible zero-logging policy that covers everything from bandwidth logs to traffic, time stamps, and even IP addresses. It's one of the most comprehensive in the industry, and it ensures none of your information stays on NordVPN's servers. Traffic is also locked down with 256-bit AES encryption with kill switch and DNS leak protection features on most versions of NordVPN's custom software.
More of NordVPN's top features:
Servers that offer specialized features such as faster P2P downloads, double encryption, onion routing, and DDoS protection
A private connection to the internet, even in countries like China, Russia, and Turkey
Unlimited bandwidth and no restrictions on P2P traffic or torrent downloads
Reliable access to Netflix streams, even when other VPNs are blocked
Subscribe with bitcoin for extra anonymity
Read our full NordVPN review.
Pros
SPECIAL OFFER: 2-yr plan (68% off - link below)
Most VPN servers with different IP addresses
Zero leaks: IP/DNS/WebRTC
"Double" data protection
Money back guarantee policy (30-days).
Cons
Very little
Apps can sometime be slow to connect.
Surfshark continues to make waves since its debut in 2019, due primarily to the sheer value for money offered. This scrappy young provider has dumped the limitations and legacy technology offered by countless inferior VPNs, exclusively in favor of the most relevant, useful and powerful provisions. Thus, it is one of our top recommendations to hide your activity online and stop NSA and FBI spying on you.
Surfshark's core offering is 256-AES-GCM encryption–ironically the same cipher used by the NSA itself. It's unbreakable by brute force, yet mathematically efficient so as not to bog down your connection with unnecessary overhead. This makes Surfshark a strong choice for unblocking streaming sites, but that's just for fun.
When it comes to guarding your privacy online, Surfshark offers blanket obfuscation, static IPs, multi-hop encryption, IP/DNS/WebRTC leak protection, a kill switch, and one of the best logging policies in the industry.
Surfshark's outstanding feature set also includes:
CleanWeb adblocking, anti-malware, and anti-tracking
Configurable settings for individual Wi-Fi networks
Unlimited simultaneous connections
Smart DNS for non-VPN compatible devices
3200+ servers in 65 countries.
Pros
Unblock 15 international Netflix libraries, including the US and Japan
Every server is a speciality server
30-day satisfaction guarantee
Zero logging policy ensures your activity can't be used against you
Get help any time of day via email, phone, or live chat.
Cons
Speeds occasionally suffer a noticeable drop
Young VPN still has plenty of room to grow in terms of advanced functionality.
Read our full Surfshark review.
ExpressVPN is a well-established VPN provider with a great reputation for speed and security. You'll never have a problem finding a fast server on the company's network of 3,000 nodes in 94 different countries. Built-in speed test software lets you look at every connection's download rate and latency scores, then switch to a better server in an instant. And because ExpressVPN offers unlimited bandwidth and no restrictions on P2P or torrent traffic, you'll want every scrap of extra speed you can get!
Staying safe online isn't a problem with ExpressVPN. Everything that leaves your computer is locked down by 256-bit AES encryption and backed by a zero-logging policy on traffic, DNS requests, and IP addresses. Custom software ensures your identity never escapes with both DNS leak protection and an automatic kill switch. ExpressVPN gives you the tools you need to defeat mass surveillance, all while enjoying a fast and unrestricted internet.
ExpressVPN features at a glance:
Anonymity features that keep your internet private, even in countries like China and Turkey
Accepts bitcoin payments through BitPay for easy and anonymous subscriptions
No restrictions on bandwidth, P2P network downloads or torrent traffic
Reliable access to Netflix streams through the website and apps
Read our full ExpressVPN review.
Pros
Unblocks US Netflix, BBC iPlayer, Hulu and Amazon Prime
Reliable and fast connections
Supports ALL devices
No logs for personal data
24/7 Customer Service.
Cons
Expensive month-to-month plan.
IPVanish wants the internet to be free, open, and safe for everyone. To help deliver on this promise, IPVanish has some of the sturdiest and most reliable privacy features around. It starts with 256-bit AES encryption, which wraps data in complex cryptography to make it impossible to read. Once your data passes through their servers barely a trace is left behind, all thanks to a strict zero-logging policy on all traffic. Custom software for desktops and smartphones also provide DNS leak protection and an automatic kill switch to make sure your identity stays hidden even if you lose your connection.
IPVanish has an incredible network of over 1300 servers in 60 different countries with a combined 40,000 IP addresses shared among its users. This ensures you'll always be able to find a fast, open server in the location you need. Downloads are fast and unlimited with no restrictions on speed, and if you want to grab a torrent file or use a P2P network, IPVanish won't object!
IPVanish features at a glance:
Incredible connection speeds that are perfect for HD, 4K, and ultra HD movie streams
Lightweight software for Windows, Mac, Linux, iOS, and Android devices
Download movies and TV shows through BitTorrent with full anonymity
Pay with bitcoins for increased anonymity
Read our full IPVanish review.