We are reader supported and may earn a commission when you buy through links on our site.
Learn more
PrivateVPN Review 2019: Unblocks Netflix, Solid Security, Good Price
Two things really stand out about the PrivateVPN experience: fast servers and wonderfully open access to Netflix streams. It's missing a few extra features some other VPNs provide, but you can't argue with the strong security measures put in place by default.
Pros
Excellent support, variety of devices and platforms
Unblock Netflix, Hulu, and other video streaming services
Heavy focus on providing an easy and friendly experience
Great speeds
Simple software design makes it easy to connect.
Cons
Mobile apps are a little bland
When you're in the market for a good VPN, there are two things that should be high on the list: speed and security. Of course, finding out which services actually deliver on these features is task unto itself. To make things easier for you, we ran PrivateVPN through a series of tests to determine how fast it performs, as well as how secure it keeps its users. Everything from mobile apps to security audits and speed test results–it's all below, ready to help you make an informed decision about your online privacy.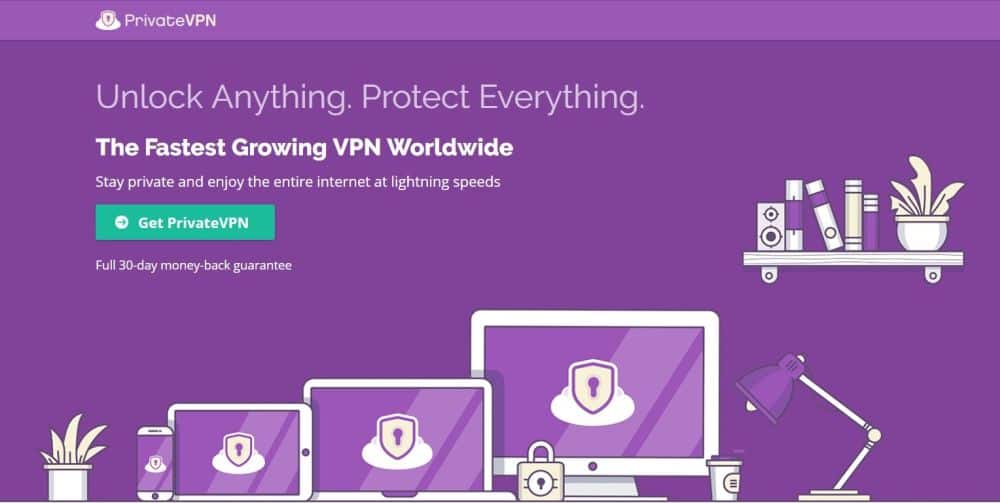 30-days money back guarantee
PrivateVPN – Brief Overview
PrivateVPN is a Swedish virtual private network service designed to make online privacy as simple and functional as possible. The service runs hundreds of servers around the world, covering over 80 locations in 56 different countries. You also get completely unmonitored access to torrent and P2P connections, unlimited bandwidth, and no restrictions on server switching. Combine all of this with PrivateVPN's excellent encryption and security features and you've got the makings of a solid VPN for everyday use.
Some of PrivateVPN's best features include:
Competitively priced subscriptions that cater to a wide variety of needs.
Alternative encryption protocols for customizable security and speed.
Full support for mobile devices such as Android and iOS.
Unlimited bandwidth on all devices and platforms.
Installing PrivateVPN
After creating your account with PrivateVPN, you'll be able to download versions of the software for a variety of platforms, listed below. PrivateVPN then provides detailed instructions and walkthrough videos on how to get the VPN up and running.
Platforms supported by PrivateVPN:
Windows 10, 8, 7, XP (custom app, alternate encryption)
Mac OS (custom app, OpenVPN)
Linux (OpenVPN CLI)
Android (custom app, .apk download)
iOS (custom app, OpenVPN)
Chrome Extension
Router (DD-WRT, Tomato, others)
Amazon Fire TV & Fire Stick
OpenELEC (Kodi OS)
PrivateVPN – Software
PrivateVPN's software follows a no-frills approach to design. It gives you the features you need without complicating things, letting you customize and connect in mere seconds. Below is an overview of the software experience beginning with the first time you launch the app.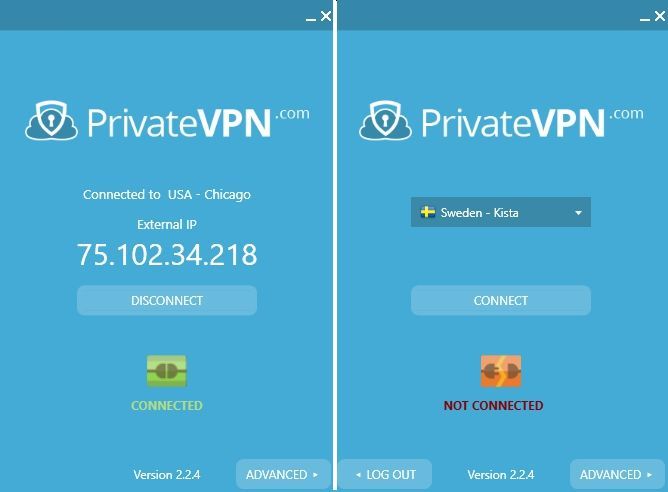 Starting Up
PrivateVPN's installation process is fairly straightforward. It actually works similarly to any other desktop program, providing you with a single file to download and run in order to install the software onto your system. Once you start it up and log in, you're presented with a straightforward screen that lets you choose from a dropdown list of servers, connect, or manage your connection with some more advanced options.
Most users will want to pick a server and connect right away. PrivateVPN doesn't hesitate to log into your chosen server once you click the button. When the connection is resolved, you'll see your new virtual IP address along with a comforting green "connected" icon.
You can change servers at any time, as PrivateVPN doesn't put a limit on the number of switches you can perform. With a network of servers in over 80 different cities around the world, you'll be spoiled for choice.
Software Settings
PrivateVPN offers a good selection of customization settings geared towards power users. Clicking the Advanced button the startup screen takes you to the configuration dashboard. Here you can view your connection status, current server, connection type, encryption strength, and which ports are currently being forwarded. Disconnect from a server, and you can edit any of these options right away.
PrivateVPN offers five different connection types, including OpenVPN and PPTP connections on a few different ports, along with four different encryption strengths to provide the right balance of speed and security.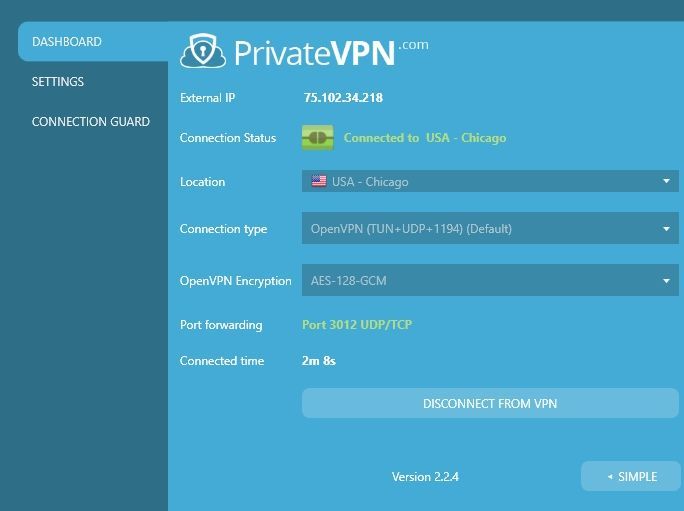 Software settings stick with the basics, allowing you to set PrivateVPN to launch simultaneously with your operating system, connect at startup, and to reconnect in case of an accidental disconnect. There are a few notification, language, logging, and repair options available as well.
The PrivateVPN Connection Guard tab has some vital settings you'll want to take a look at right away. This includes toggling IPv6 leak protection, DNS leak protection, and the automatic kill switch. Below that is a box where you can specify which individual programs PrivateVPN will terminate in case you get disconnected from the service. This provides extra security to shut down any software you absolutely don't want using an unencrypted connection.
Mobile VPN Apps
PrivateVPN's mobile apps are an exercise in stark functionality. Immediately upon launch, you'll see the main connection screen, an almost exact copy of the desktop layout. You can choose a server, connect, then view your new IP address and time connected right away. The server browser is a simple list of locations; scroll down and pick a city/country combination and you're all set!
PrivateVPN keeps a nice list of settings on the mobile app, enough to let you do some smart customization to suit your preferences. You can toggle automatic reconnects, connect on start, and set the app to launch whenever you reboot your phone. There's also a two-tier port switching option along with four different encryption levels to choose from.
PrivateVPN on Fire TV
PrivateVPN enjoys the unique distinction of being one of the few popular and reliable VPNs that supports Fire TV and Fire Stick installations without resorting to sideloading. This means you'll be able to access the app and install it directly from Amazon's Fire TV marketplace, complete with an interface designed for large screen, remote control navigation.
To install the PrivateVPN app on your Fire Stick or Fire TV, you can visit Amazon's browser-based appstore and send it to your device, or open your Fire TV interface and navigate to Apps > Categories > Utility and find the PrivateVPN store entry from there.
Once you install PrivateVPN to your Fire Stick, sign in using your account details. Pick a server from the list of locations, then click Connect. Congratulations, you can now stream movies on your Fire TV in perfect privacy!
PrivateVPN and Kodi (OpenELEC)
Most Kodi users are well aware of the dangers of using their favorite open-source media center app without a proper VPN in place. Finding one that supports fast speeds and strong security is always a challenge, but when you add in the sheer variety of platforms Kodi runs on, it's nearly impossible to locate a VPN that caters to all the same hardware.
The OpenELEC operating system is a stripped-down and minimalistic operating system designed to give Kodi full access to a hardware's available resources. It's generally used on low-powered devices like TV box sets or streaming sticks. OpenELEC leaves most of the processing power alone so Kodi can run unimpeded, but this has the side effect of cutting out certain VPNs, especially those with heavy-duty software that can drag down performance.
PrivateVPN is one of the very, very few VPN services that has gone to the trouble of offering a detailed guide to setting up its software on OpenELEC. The installation uses OpenVPN and the Zomboided VPN Manager add-on for Kodi, both of which keep resource drainage to a minimum while providing plenty of protection via PrivateVPN's strong network.
The basic process is pretty straightforward. All you need to do is run Kodi, add the Zomboided repository to Kodi, then install the add-on. You'll add your login details in the app's configuration screen, then choose a few settings to make the process as seamless and automatic as possible. See PrivateVPN's support pages for a guided tour on how to install PrivateVPN to Kodi on OpenELEC.
Testing PrivateVPN's Speed
While it's certainly important that a VPN protects your identity and data, speed cannot be ignored. A slow service can turn your movie streams into frustrating buffering screens and slow downloads to a grinding halt. Many VPNs promise fast speeds but deliver sluggish connections across the board. We ran PrivateVPN through a battery of speed tests to see how well it performed.

Speed Test Methodology
VPNs will be a little slower than an unencrypted connection, it's just the way things work. Top-tier services put a great deal of effort into providing fast servers so this drawback is minimal, however. Viewing speed test results can help you gauge whether or not a service will perform well at your home or while you travel.
There are countless variables that come into play when it comes to speed test results. Internet connections vary from moment to moment, hardware differences must be taken into account, and the location of the tester versus their ISP and the VPN's network nodes also plays a role. We eliminated as many of these variables as we could by running multiple tests on different remote servers using three different services. Your results will still vary from ours, but overall the numbers below can be used as a rough guide for the VPN's overall speed.
The main speed tests we used include the following:
VPN Speed Test #1 – We downloaded a series of files ranging from one to 16 MB in size. These were served by a content delivery network that automatically detects and adjusts location for optimal results.
VPN Speed Test #2 – A ten-minute test where we downloaded a single 100 MB file from the same server once every 60 seconds, then measured and charted the speeds.
VPN Speed Test #3 – A quick speed test that connects to a single server to record the best upload and download speeds.
PrivateVPN Speed Test – Results
PrivateVPN gave us some great speed results, edging out some of the competition by a few megabits here and there. There were no sudden drops in speed, no inexplicable bursts, and connections to different server locations were surprisingly reliable. We didn't have many dropped connections, either, even when using servers located across the world. This shows PrivateVPN has a robust network, providing some reliably fast speeds and good streaming quality no matter where you live.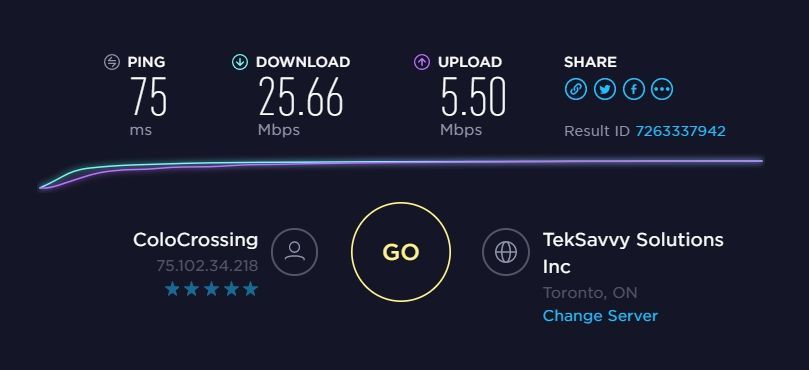 The tests below were performed using PrivateVPN's default encryption settings. You may be able to get slightly faster speeds by reducing the encryption or switching to a different, non-OpenVPN method.
Multi-file download (Test #1):
Highest recorded ISP speed: 10.42 mb/s
Highest recorded PrivateVPN speed: 8.02 mb/s
100 MB repeated download (Test #2):
Local ISP – 8.24 mb/s (low) – 6.44 mb/s (high) – 7.14 mb/s average
PrivateVPN- 8.04 mb/s (low) – 5.3 mb/s (high) – 6.44 mb/s average
Single burst test (Test #3):
Best ISP speed (single server): 63.77 mb/s download, 5.76 mb/s upload
Best PrivateVPN speed (single server): 25.66 mb/s download, 5.5 mb/s upload
Interpreting these speed test results is easy: PrivateVPN does a great job delivering fast connections that won't drop without warning. It outperformed a few other mainstream VPNs in some of the multi-file download tests, as well, which was a surprising result! PrivateVPN is a great choice for anyone who needs both high and reliable speeds.
Torrent Downloads
Downloading torrents is something a lot of VPN users wish to do. The protocol allows for fast file transfers of any size, making it one of the best ways to stream HD movies or download 4k video files. Using a VPN while torrenting is crucial to preserving your identity and location, as well as defeating certain throttling and content blocks some ISPs impose.
We tested PrivateVPN with torrent files to make sure the company held true to its promise of not filtering this type of content. Not only were we able to run the test torrent without any issue, but we also had unexpectedly fast speeds with no additional setup required. Our IP address remained hidden during the entire process, too, making PrivateVPN an excellent VPN for torrenting large files.
PrivateVPN's Security
The core purpose of a VPN is to keep your data and identity secure online. Whether it's features like DNS leak protection or a detailed zero-logging policy, a lot of factors go into creating this atmosphere of privacy. We took a detailed look at PrivateVPN's security practices to make sure it really does keep you safe online.

Logging Policy
A VPN's logging policy ensures your data isn't stored on the company's servers for any extended period of time. This includes traffic information, IP access logs, timestamps, and a few other areas. The data has to pass through the VPN's servers, of course, but as long as they don't specifically log it, your privacy remains safe.
Researching PrivateVPN's logging practices turned out to be a tricky process. The company is somewhat cagey about divulging the details of which types of logs are kept and which are not. Of the five areas listed below, most VPNs keep logs in at least one (usually bandwidth). A data counter on PrivateVPN's front page suggests the company does keep bandwidth logs, which are relatively harmless to users. Apart from that, the only confirmation we could find was that the company doesn't keep traffic logs, which is the most important area a VPN should have a zero-logging policy in.
PrivateVPN released exactly one statement regarding their logging practices, stating they don't keep any details that could allow them or a third party to match an IP address to a timestamp or a PrivateVPN user. This is reassuring, but it would be nice to have an official statement on which areas are free and clear.
Traffic logs – No
IP address logs – Unknown
Timestamp logs – Unknown
DNS request logs – Unknown
Bandwidth logs – Possibly
PrivateVPN's Jurisdiction
Jurisdiction matters when it comes to a VPN's effectiveness in keeping your data secure. The company is bound by the laws of the region it's registered in, which could potentially open up hidden security holes. Some governments require VPN services to retain certain data without informing customers of the practice. Even if they say "zero-logging policy", behind the scenes they could be storing all of your information for an indefinite period of time.
PrivateVPN has chosen a good country as its home base: Sweden. The area is known to be privacy-friendly in terms of users maintaining control of their data. No government regulations exist that would require PrivateVPN to keep hidden logs of data, and the company has never received a court order to turn over any user information. Even if they did, they would have nothing worthwhile to share.
DNS Leak Tests
DNS servers work behind the scenes to allow the internet to function. They hold a database of public IP addresses along with associated hostnames. Each time you connect to an ISP or a VPN service, you use their DNS servers to translate typed URLs into a series of numbers. Without DNS, we would have to memorize long strings of digits just to check our e-mail!
The catch with DNS servers is they can be a common point of identity leakage. If you lose connection to your VPN, or if something on your device isn't configured right, your entire home network could default to local ISP DNS servers, giving away your identity even though it seems like your VPN is active. To prevent this, reputable VPN software includes DNS leak protection. The feature guarantees that you never default to ISP servers, so your identity stays safe.
PrivateVPN offers DNS leak protection through all of its custom apps. We ran several tests using third party DNS leak gauges to make sure it actually does mask our identity. For every test we tried on every device, PrivateVPN passed with flying colors. The company's DNS leak protection feature works perfectly.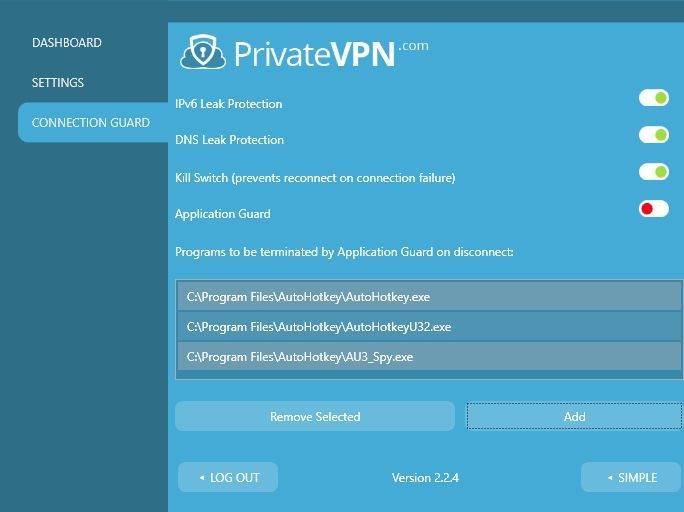 Kill Switch Protection
Another core security feature VPNs should provide is an automatic kill switch. This straightforward system monitors your connection to the VPN servers at all times. If you get disconnected, it steps in to make sure your data doesn't get sent through your ISP without encryption by shutting down your internet altogether. It's a great way to keep your connection private at all costs, and it can really save your data if you're traveling through a privacy-restrictive country.
PrivateVPN's kill switch is turned on by default to keep automatic reconnections from happening. You can toggle it under the connection guard tab in advanced settings, if you like. Most people will want to leave it as-is for optimal online security, however.
We also tested PrivateVPN's kill switch feature by force closing the port it uses for data, thereby simulating an accidental disconnect. PrivateVPN's software responded immediately by blocking the reconnect to our ISP, keeping our information safe until the VPN could re-establish a connection with a secure server.
Encryption and Security
PrivateVPN offers a few different connection types as well as encryption strengths by default. You can customize these settings to help break through censorship barriers, unblock video streaming services, or regain some lost speed. By default, PrivateVPN uses OpenVPN connections with 128-bit AES encryption, which is a good balance most people will want to stay with.
PrivateVPN's connection types include the following:
OpenVPN on UDP port 1194 (default)
OpenVPN on TCP port 443
OpenVPN with UDP
PPTP
L2TP
OpenVPN is almost always preferred to other connection types, as it's the most secure and keeps a good balance between speed and privacy. L2TP (Layer 2 Tunneling Protocol) is slower but more secure, while PPTP (Point-to-Point Tunneling Protocol) is extremely fast but sacrifices some security in the process.
The default OpenVPN port (1194) will be selected when you start PrivateVPN. If you have issues connecting to certain websites or are being throttled by your ISP, switching to TCP port 443 can help you squeeze through the firewall without any issue.
PrivateVPN also lets you choose between two encryption strengths, each with two unique key ciphers:
128-AES CBC
128-AES GCM
256-AES CBC
256-AES GCM
The differences between these connection and encryption types can seem trivial, but they add up to some serious changes in your performance. GCM (Galois/Counter Mode) is a newer form of encryption that's generally accepted as more efficient and reliable than the older CBC (Cipher Block Chaining). There are, of course, detailed technical differences between the two, but most users should favor GCM unless they have a reason otherwise.
Using PrivateVPN in China
China's restrictions against VPNs is notoriously strict. In February 2018, the government placed a ban on almost all foreign VPN companies, preventing its citizens from accessing an uncensored web through the most common means. In some cases you may be able to access a service's website but not use the app itself, while in others the opposite is true. Either way, getting around the Great Firewall of China is a huge concern for citizens and travelers alike.
As is the case with most VPNs, PrivateVPN is completely blocked from access in mainland China. You won't be able to access the website or the service while located in the country. Before the February 2018 regulations went into effect some users reported occasional VPN access through PrivateVPN, but that's no longer the case, and it won't likely be for the foreseeable future.
Netflix Availability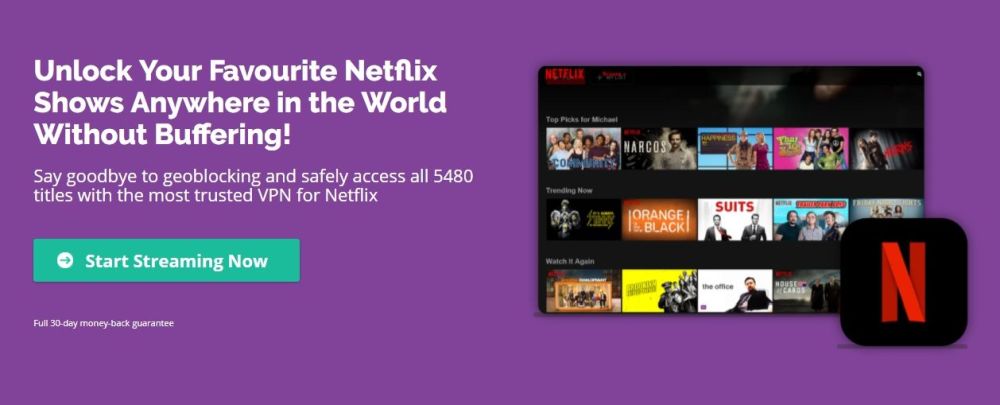 Netflix has started aggressively blocking access to almost all popular VPNs. This is due to international content laws that prevent the service from making content freely available to regions around the world. This makes the Netflix in each country a completely different experience, as many shows and films simply won't be available until the content distributors allow it to be so.
In the beginning a lot of people were using VPNs to get around this restriction. Netflix was forced to block access to proxies and VPNs to keep content region restricted. Not all services are completely blocked, however, which is why we're always interested in how easily we can access Netflix content with every VPN we test.
PrivateVPN does something unique with its server listings: it labels them for specific streaming purposes. Scrolling through you'll see tags with "Netflix", "Hulu", "BBC", or some combination of the three (as well as others). These labels mean the servers will work with the stated services, taking out all of the guesswork involved with finding a reliable, unblocked connection.
Below is a complete list of PrivateVPN's Netflix and other streaming content provider's worldwide access options. You may also find other servers offer access as well, even if they don't have a tag on the list. For example, we were able to access Netflix through Norway – Oslo without any issues.
Canada – Toronto (Netflix)
Germany – Frankfurt (Netflix, Amazon Prime)
Italy – Arezzo (Sky)
Italy – Milan (Netflix)
UK – London (Netflix, Sky)
UK – Manchester (BBC)
USA – Buffalo (Netflix, Hulu, ABC)
USA – Los Angeles (Netflix)
USA – New York (Netflix, Hulu, ABC, Amazon Prime)
We took a look at these streaming servers and were extremely pleases with the results. Every location on the list delivered exactly what it promised. Good speeds, fast connections, and a comprehensive end to the dreaded "Netflix proxy error" message.
PrivateVPN is one of the best VPNs to use if you want worldwide access to Netflix, Hulu, and other online video streaming services.
PrivateVPN Customer Support
There are two main areas of customer support: detailed walkthrough articles and person to person interaction. The former is useful for answering your own questions without having to resort to submitting a help ticket. If you can't log in, can't get your app installed, or bump into any other common issues, searching through the support FAQs often lets you sort things out on your own, quickly and efficiently.
If you run into a more complex error and need some assistance, it's good for a VPN service to have customer service agents standing at the ready. This can include live chat, e-mail correspondences, or static support tickets you can submit and wait for a response.
PrivateVPN scores highly on both of these fronts. The self-service center offers a wonderful selection of text, image, and video guides for installing the PrivateVPN app on every device imaginable. Set up the VPN through alternative methods using their instructions, or troubleshoot sticking points by perusing the lists. Getting started with PrivateVPN couldn't be easier.
Other support articles are somewhat limited on PrivateVPN's support site, so if you do encounter a larger problem, you'll need to escalate to their team. A live chat button exists for an instant connection to a member of their team, allowing you full access to knowledgeable help staff. You can also download a secure remote assistance app for desktop environments that will let the customer support agent set things up for you.
If your issue isn't urgent, you also have the option of contacting PrivateVPN's help center or submitting a support ticket. Both are straightforward and will provide you with the answers you need in a timely manner.
PrivateVPN – Pricing and Plans
A competitive VPN market is good for everyone involved. It encourages service providers to keep their features cutting edge, and it delivers low prices for consumers who want the security of a VPN without paying a lot of money. This has driven subscription costs down to a few dollars a month for most services, all without sacrificing quality on any front.
PrivateVPN splits its subscriptions into three categories, each for a varying amount of time, with larger discounts for longer signups. Below is a quick look at what the service offers. Note that these prices could change without notice.

1 month – $7.67 per month
3 months – $5.25 per month billed at $15.75 every three months (save 52%)
12 months – $3.88 per month billed at $50.40 every year (save 64%)
All PrivateVPN plans are backed by a 100% money back guarantee. Sign up and try the service for as many as 30 days, and if you're not satisfied, you will receive a full refund, no questions asked. What's more, you can try out the service for 7 days for free.
PrivateVPN – What We Liked, What We Didn't
We spent a lot of time with PrivateVPN to test out its features, try out its mobile apps, and see how it fares as a daily use VPN. We also tried the mobile apps and compared them to other top VPNs in the market space. Below are our final thoughts for the PrivateVPN experience, highlighting the pros and cons from our point of view.
We liked…
Excellent support for a variety of devices and platforms with wonderful installation guides available for every one.
By far one of the best VPNs to use for unrestricted worldwide access to Netflix, Hulu, and other video streaming services.
Heavy focus on providing an easy and friendly experience for all customers.
Superb speed test results for servers around the world.
Simple software design makes it easy to connect.
We didn't like…
Not an extensive amount of extra features or other "wow" factors.
Mobile apps are a little bland.
Is PrivateVPN Right for You?
Two things really stand out about the PrivateVPN experience: fast servers and wonderfully open access to Netflix streams. It's missing a few extra features some other VPNs provide, but you can't argue with the strong security measures put in place by default. The software may leave power users wanting more, but everyone else will appreciate the ease of use on all platforms.
PrivateVPN is a wonderful VPN to use for securing your daily internet activities. It's great for Netflix, great for web surfing, and it can keep you safe no matter what you do online.