We are reader supported and may earn a commission when you buy through links on our site.
Learn more
CyberGhost VPN Review 2019: Solid Security and Performance
Overall, CyberGhost seems to be a very high-quality service, right up there with the best in the business. It meets or exceed all our important criteria and will provide as good a protection as any of the best products.
Pros
Private: Great zero-logs policy
Deals with privacy issues very well (based in Romania)
Quick, consistent speeds
7 simultaneous connections
Friendly Live Chat support
Peer-to-peer (P2P) torrenting allowed
Unblocks Netflix US
Cons
Not much. The user interface may put some people off, but an update is in the works.
Although it's hard to recommend using a free VPN service for several reasons, CyberHost has managed to gain a solid reputation in the field. But the European provider also has a subscription-based service and this is what we're going to review today. CyberGhost advertises a whopping 1300 servers in over some 30 countries. This is more than most competitors. But is the service any good? We've put it to the test and here's what we've found.

Just so that we are all on the same page, we'll begin our discussion by explaining what a VPN is, why it's useful and what key features one should be looking for when selecting a provider. We will then describe the CyberGhost service and its main features. And since a VPN is only as good as the client application it comes with, we'll have a look at the CyberGhost Windows client. We'll examine its different features and modes of operation. And finally, because we all want our VPN connection to be as transparent as possible, we'll have a look at the service's performance.
30-days money back guarantee
Virtual Private Networks In A Nutshell
Virtual Private Networks or VPNs provide users with the best privacy and security while using the Internet. They encrypt all data in and out of a computer using strong algorithms that make it almost impossible to crack. We call them virtual because they build a virtual tunnel between your computer and a VPN server. The VPN client running on your computer encrypts all data and sends it through the tunnel to a VPN server where it is decrypted before being sent out on the Internet.
I hear you asking: "But if my data is decrypted at the other end of the tunnel, how is it more secure"? Although it is a very good question, here's an easy answer. Privacy is achieved because, even though the data is not encrypted between the far end of the tunnel and its destination, it is still untraceable to you or your computer. Once the data exits the tunnel, it is seen as originating from the VPN server, not from your computer.
As for security, the "sensitive" part of the data transmission is at your end. This is where someone (like your ISP, government agencies or malicious users) would be trying to intercept your traffic and spy on you or steal your personal information. When using a VPN, this part of the communication is encrypted and anyone examining your usage would only see meaningless garbage between your computer and a VPN server. They wouldn't be able to see what you're doing or where you're going.
Advantages Of Using A VPN
Other than the obvious security and privacy that using a VPN provides, there are several other reasons why one would use a VPN. Most of them have to do with bypassing usage restrictions imposed by employers, schools, public Internet providers or even governments. Other reasons are to access geo-blocked content.
Internet Usage Restrictions
Most places of business, most schools, and most public WiFi hotspots have strict acceptable use policies. For instance, schools will often forbid the use of social networks in an effort to reduce in-class distractions. Places of business might be more permissive but might not permit the download of files or access to streaming video sites in order to reduce their Internet Bandwidth usage. The same is true of most public WiFi hotspots such as those you'll find at your local Starbucks or the public library. And all these places will often decline access to sites promoting illegal activities or posing morality issues.
Some countries also have huge restrictions on acceptable Internet usage. China, for example, doesn't allow access to most of the Internet. This country practices a very strict control over information which extends to all forms of communications, including the Internet. Don't try to access Facebook or Instagram from China, you just can't. Popular western search engines are also unavailable as are many western media websites.
Bypassing These Restrictions
No matter what is being blocked, why it is being blocked and by whom it is being blocked, the means of blocking access to some parts of the Internet are generally the same. They are often based on destination IP address. If, for example, an organization wanted to block access to Facebook, all they'd have to do is block all traffic going to Facebook's IP addresses. Another way it could be blocked is by looking at the actual request. Any request going to facebook.com, for instance, could be easily blocked. Finally, blocking can also be based on network protocols. Torrents, for instance, use a specific protocol that could easily be filtered by the sort of devices organizations use to control Internet Access.
By encrypting data, VPNs protect you against systems that block traffic based on domain name or protocol. And by sending all data to a VPN server, VPNs protect you from traffic blockages based on destination IP addresses. Of course, some organizations will block traffic to known VPN servers' IP addresses or block all known VPN protocols. Thankfully, the best VPN clients will have ways of circumventing those blockages as well by masquerading their traffic to make it look like something else.
Accessing Geo-locked Content
If you've ever tried to watch some content on one of the major American TV networks websites from outside the USA, you've most likely encountered geo-blocking. Many broadcasters to it in order to enforce the contracts they have with content producers and protect local markets.
Other sites won't block your access but they will show you a different site based on your location. Netflix is a good example of that. For example, if you're a US-based Netflix subscriber vacationing in Canada, going to the Netflix website will show you the Canadian one rather than the one you're used to. And different countries have different Netflix content available.
With a VPN, all you need to do is pick a server located in the country where the access you're attempting is permitted and voilà! You now have access as if you were in that country. The site you're accessing will see all your requests as coming from the VPN server rather than your computer, completely fooling it.
What To Look For In A VPN Service Provider
There are many VPN providers out there and choosing the best one can be a daunting task. We've assembled a list of the most important factors you should consider when evaluating providers.
Using a VPN adds a certain overhead to your communications as all data has to be encrypted and decrypted before being routed to often distant servers. To alleviate this, you need a provider that offers fast connection speed.
To protect yourself from changes in legislation, you need a VPN provider with strict no-logging policies. If a provider doesn't log what you're doing, they simply can't be forced to reveal it to anyone.
You should choose a provider that has no bandwidth restrictions. Some will limit your traffic to a few hundred megabytes to a few gigabytes per day. Depending on your online activities, you could quickly reach the limit.
You also want a provider that imposes no restriction on traffic. This way, you're free to do anything you may want. Some providers, for example, won't let you access torrent sites
Finally, you need client software available for the device(s) you want to protect. Most providers have Windows and Mac clients but some also have Android or iOS coverage. There are even VPN providers that have software that can be installed on your Internet router, thereby protecting your whole home.
The CyberGhost VPN Service
Based in Romania and Germany, CyberGhost has been around since 2011. They claim their goal is to defend privacy as a basic human right and to be the first in the industry to publish a transparency report. From a privacy standpoint, being based in Romania is a good thing. This country has no data retention laws like you have in other countries such as the US or UK where your data (even when using a VPN) is never totally private as VPN providers have a legal obligation to log data.
Main Features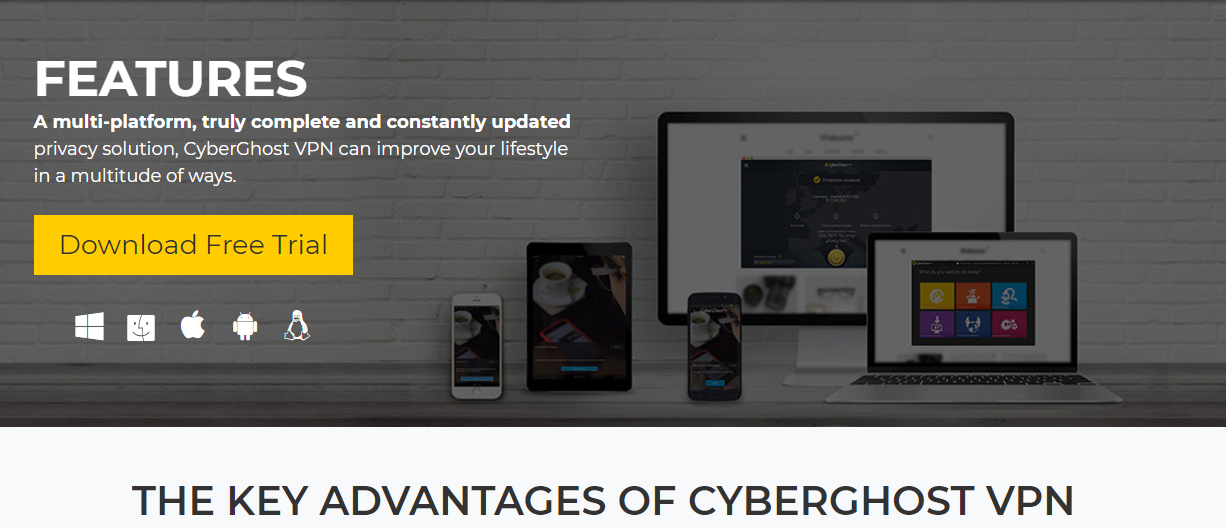 CyberGhost has an impressive 1300 servers in about 30 different countries. This includes rare places such as Hong Kong, Singapore and Israel. There are also some 150 servers in the US, making CyberGhost an excellent option to unblock American broadcasters.
By default, CyberGhost connects using the OpenVPN protocol with 256-bit AES Encryption with 2048-bit keys and MD5 HMAC authentication. Optional settings include data compression and HTTPS redirection. For the best security, CyberGhost uses perfect secrecy, A random key is generated for each session making connection interception much harder.
CyberGhost has a strict zero logging policy. Furthermore, they don't even keep user's email addresses. Purchases are processed by channel partners so the only personal information CyberGhost has about users is their usernames.
Other important features of CyberGhost include an Internet Kill switch that will automatically disconnect your network should the VPN connection ever go down unexpectedly. Also, the service has DNS and IP leak protection.
And if you ever need support, it is available via chat or email. There is, unfortunately, no telephone support available. Although we haven't had to use the CyberGhost support, the concensus seems to be that it is totally adequate.
Plans And Pricing
CyberGhost offers three different plans. They have the free plan which, contrary to most free VPN services has no usage limit. This doesn't mean it has no limitations, though. The free plan only lets users access a subset of the servers. And not only that, performance is severely limited. CyberGhost advertises the paying users get up to five times the speed of the free services. This is a worse-case, though, and many free users report better performance than that. Another limitation of the ad-supported free service is that it can only be installed on one device. Furthermore, free sessions are limited to a three hours duration. After that, you get disconnected.
For the best experience, you need the premium plus service which removes all limitations and gives you a full-performance connection. The only limitation that remains is the number of devices on which it can be installed which is still limited but to five instead of only one.
The price varies depending on whether you choose a monthly subscription or opt to pay for one of two years in advance. These are the standard prices but you'll often be able to get discounted prices – with this link you can take advantage of their most current deals.

As for payment methods, they accept credit cards and Paypal payments. But if you prefer to remain totally anonymous, they also accept Bitcoin.
We use the CyberGhost Windows Client
One of the most original features of CyberGhost is their Windows client. While most VPN clients let you choose between an automatic connection–where the server is chosen based on some unknown criteria–and a connection where you specify the country and sometimes the server within a given country, CyberGhost's client is very different.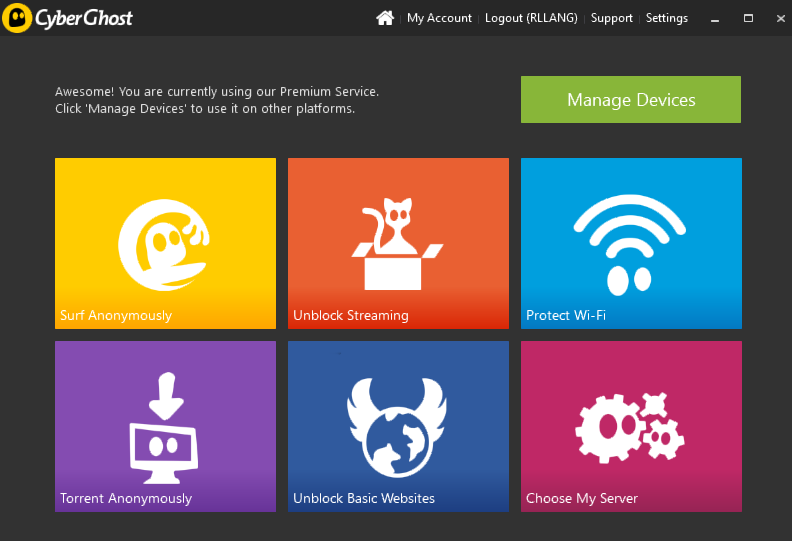 Instead of the usual Connect button you see on almost every other VPN client application, this one has no fewer than six different buttons, each corresponding to a different usage.
Surf Anonymously
The first button, Surf Anonymously, will not only start the VPN but also implement some filtering to block malicious websites, block ads, block online tracking automatically redirect you to HTTPS sites when available and select servers for their speed. But that's not all. Once connected, the client will start an instance of your default browser in incognito mode for extra security.
Unblock Streaming
The second button, Unblock Streaming, is impressive. When clicking it, you're presented with a list of 20 different streaming sites. They vary widely with entries such as BBC, Netflix, Eurosport, ESPN, Comedy Central and several more. For some of them, you can also choose the country where you want to connect. Once you select a streaming service, the VPN connects to the proper country and starts your default browser on the page of the selected streaming service.
Protect WiFi
The Protect WiFi button is similar to Surf Anonymously except that is will not do HTTPS redirection nor will it open an incognito browser for you. It will simply start the VPN.
Torrent Anonymously
This, will not only launch the VPN connection but also launch a program of your choice upon connection.
Unblock Basic Websites
This is what you'll use if you're in a place that won't let you access some Internet services. Somewhat like Unblock Streaming, you may select from 10 online services which are the most commonly blocked ones. When clicked, the VPN will be established and your browser started on the service's homepage.
Choose My Server
Last but not least, Choose My Server is where you go if you want complete control. From there, you may choose any server to connect to. The servers are sorted by country and facing each server, you can see its current user load and whether or not it supports torrents.
Other Available CyberGhost Clients
One of the strengths of CyberGhost is that they develop their own client applications. This means that each one is custom built to make the best of the service. Although we haven't tested all client applications, we've searched the web and found that they are all generally well rated and have mostly positive reviews.
As for what's available, In addition to their great Windows client, CyberGhost has clients applications for MacOS, iOS, and Android. And it doesn't stop there, Although they don't have a dedicated client for it, they provide detailed instructions on how to set up the CyberGhost service on Linux computers and even on some Internet routers
CyberGhost's Performance In The Real World
A VPN is a great tool to enhance one's privacy and security but it is useless if its impact on your activities is such that you avoid using it. So, we've put the service to the test to see how it performs.
We are no scientific testing lab and the methods we used might have limited value. We ran two different sets of tests. The first set was done using the speedtest.net website, both with the VPN connection and without it. We used the Protect WiFi setting for each test and averaged our results. Without a VPN connection, we go an average ping response time of 14 ms and an average download speed of 10.54 Mbps. With the VPN connected, average ping times increased to 46 ms but, surprisingly, download speeds went up to 10.80 Mbps.
We then ran another set of tests using the TestMy.net site. Their testing method seems to be different and closer to the real case of downloading a file off the Internet. What we measured was an average speed of 11.2 Mbps with the VPN disconnected and 7 Mbps when it was connected. This time, the VPN connection seemed to have a bigger impact on network speed.
But testing, scientific or not, is not everything. The most important test one can do is a real use test. So, we used the CyberGhost service on and off for a few days. To be perfectly honest, not once did we notice any difference in performance when the VPN was on or off.
In Conclusion
Overall, CyberGhost seems to be a very high-quality service, right up there with the best in the business. It meets or exceed all our important criteria and will provide as good a protection as any of the best products. Its user interface may put some people off but, once you get used to it, it becomes second nature. CyberGhost offers a 30-day money back guarantee so you don't have much to lose by giving it a try. And if you'd rather not shell out any money up front, you can also opt for their 7-day free trial